Multifunctional Tester Water
Roll over image to zoom in
Click to open expanded view
₹3,600.00
5-in-1 Multifunctional Tester is the latest multi-functional water quality tester developed in 2020, with 5 functions and one product for multiple uses. It can measure PH / TDS / EC / ORP / temperature. The measurement range is large and wide, and can measure fresh water salinity and sea salt. It is suitable for home, swimming pool, drinking water, and amazing digital water quality monitor for aquarium.
Features:
Use to measure the pH, TDS, ORP , EC And Temperature Meter.
The electrode probe can be replaced, ATC function.
Easy calibration of pH and TDS with just a mini-screwdriver.
Large and clear LCD with backlight, easy to read and accurately measuring functions.
Apply in water sources, aquarium, hydroponics, spas, swimming pools and other water systems.
Automatic temperature compensation.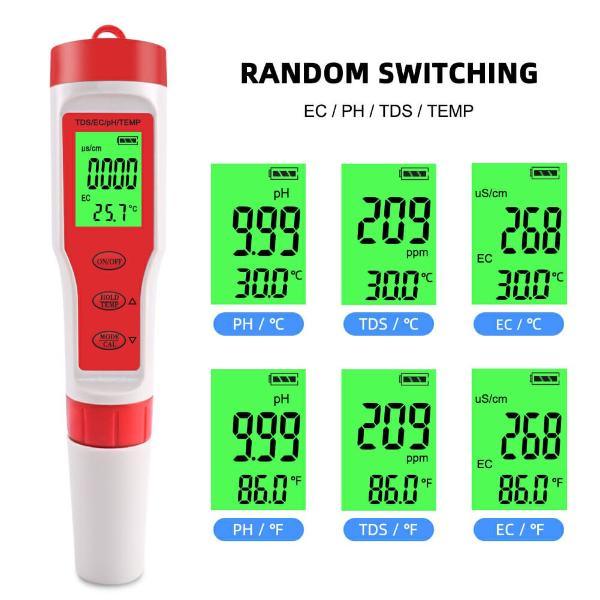 5-in-1 Multifunctional Tester  Specification
Range

pH      0.00-14.00pH
EC     1-19990us/cm
TDS   1-19990ppm
ORP   ±1000mV
Temp  0℃-60℃ (32°F-140°F)
Resolution
pH       0.01PH
EC      1us/cm 0.1ms/cm
TDS    1ppm  0.1ppt
ORP    1mV
Temp   1°C/°F
Accuracy
pH           ±0.05pH
EC/TDS  ±2%F.S
ORP        ±2mV
Temp       ±0.5°C
Waterproof Level
IP67
TDS Factor
0.5
Automatic shut-off
5 minutes
Battery
3×1.5V (AG-13)(Not included)
Attention:
1. It has been calibrated by factory, use it directly.
2. After finished, clean the electrode with pure water and keep it dry.
3. Stir gently several times to ensure no air bubble around the electrode.
4. Don't disassemble the meter without permission to avoid damage.
5. Keep it dry.
6 .If ph calibration is wrong, please reset.