550 Industrial Infrared Thermometer
Roll over image to zoom in
Click to open expanded view
₹1,500.00 (-37%)
RANGE: Large temperature measuring range switch between fahrenheit and celsius temperature scales

SPOT RATIO: The distance to spot ratio is 12:1, it can accurately measure targets at greater distances compared to most other ir thermometers

ACCURACY: Built-in laser for precisely aiming built in laser gives you the precision to hone in on the exact space you want to measure.operates on a twelve-to-one ratio ,accuracy +/- 2% on 95 emissive surfaces ,response time of 500ms

AUTO SHUT OFF: Big backlit screen makes it very easy to see the measured temperature, feature auto shut-off to save battery and data hold function

MODE BUTTON: Mode button to hold the max and min data.temperature readings from this devices are inanimate objects. The measured temperature for humans or animals will not be correct
Brief Description
This Digital Infrared Thermometer is compact and easy to use. It is a very useful item for measuring surface of hot, hazardous or hard to reach objects without having to touch them. You just aim with Laser Point, press the button, and read the temperature in less than a second.
It has wide measuring range of Temperature from -50 to 550 °C (-58 ~ 1022 °F). The thermometer is also featured with Backlight LCD, Large Distance to Spot Ratio (12:1), 0.95 emissivity, switchable between °C and °F.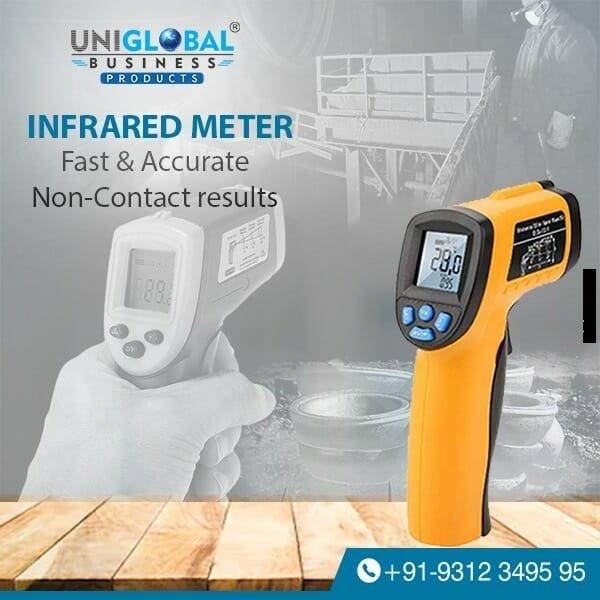 Infrared Technology
Infrared Thermometer measures the surface temperature of an object. The unit's optics sense emitted, reflected and transmitted energy which is collect and focused onto a detector.
The unit's electronics translate the information into a temperature reading which is displayed on the LCD. For increased ease and accuracy, the laser pointer makes aiming even more precise.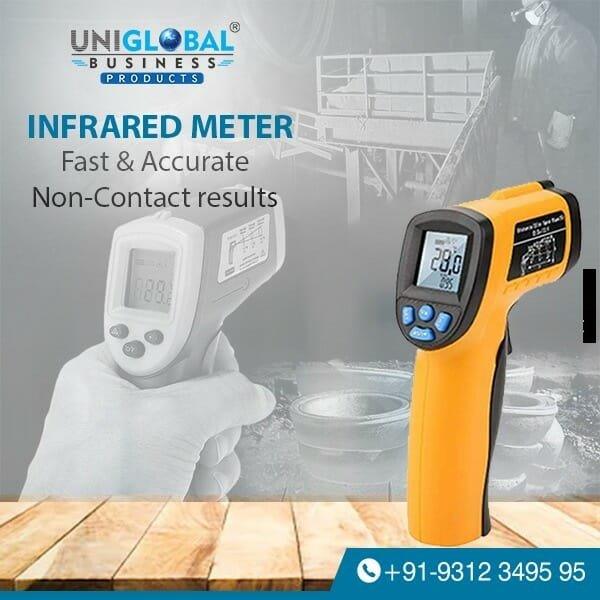 Applications
Heat ventilation air-conditioning and refrigeration
Automotive industry
Electrical & power voltage/current inspection field
Water treatment and water quality inspection
Environmental monitoring
Marine and weather
Gas industry
Food processing industry
Features
Wide Temperature range with -50 ~ 550 °C (-58 ~ 1022 °F)
With D:S = 12:1, maximum distance from the target object
Highly accurate and reliable
Targeting guide or laser pointer with on/off switch for accuracy are provided
Large clear LCD display with Backlight
Auto Power Off
Data Hold Function
Fixed 0.95 emissivity covers 90% of surface applications
Access surface temperature in 1 second
Selectable between °C and °F
Pre-Calibrated in Factory
Laser Pointer on/off feature
Specifications
Temperature range

 -50 ~ 550℃ (-58 ~ 1022℉)

Accuracy

0℃~550℃ (32℉~752℉) :±1.5℃(±2.7℉)
or±1.5%
-50℃~0℃(-58℉~32℉): ±3℃ (±5℉)
Whichever is greater

Resolution

0.1℃ or 0.1℉

Repeatability

1% of reading or 1℃

Response time

500 mSec, 95% response

Spectral response

8-14 um

Emissivity

0.95 Preset

Distance to Spot size

12:1

Operating Temperature

0 ~40℃ (32 ~ 104℉)

Operating Humidity

10~90%RH non-condensing,
up to 30℃(86℉)

Storage Temperature

-20 ~ 60℃ (-4~140℉)

Power

9V Alkaline or NiCd battery

Typical battery life

Non-laser mode: 22 hrs;
Laser Models:12 hrs

Weight

147.5g

Dimension

153x101x43mm